Sutton-in-Ashfield Sheet Metal Fabrication
Offering High-Quality Sheet Metal Fabrication To Sutton-in-Ashfield
At Akramatic Engineering we are subcontractors that provide first-class stainless steel and metal fabrication services for industrial and commercial clients. With almost 50 years of experience, we have worked in a plethora of industries in Sutton-in-Ashfield and the United Kingdom. We offer a large range of quality products and services at competitive prices. These include sheet metal work, design service, medium-sized fabrications, TIG welding services and powder coating.
To create your bespoke metal fabrications we employ accurate and cost-effective CAD/CAM technology, inventor software, CNC machinery, laser cutting, sheet metal folding and many more. In addition, our team of highly skilled welders would love to discuss your needs, helping you every step of the way.
How Does Sheet Metal Fabrication Work?
Sheet metal fabrication sometimes referred to as steel or aluminium fabrication, is the process of cutting, bending, rolling, and punching flat sheet metal into solid metal structures. These metal structures can include things like railings, balustrades, handrails, and even kitchen and restaurant equipment.
We would be more than happy to discuss your needs, contact Akramatic Engineering on 01773 833223
Metal Fabrication Services We Can Offer To Sutton-in-Ashfield
Akramatic Engineering Company delivers custom-made sheet metal fabrication to Sutton-in-Ashfield. Thanks to our years of experience fabricating products with the latest technology we can provide bespoke metal fabrication that is accurate in design and cost-effective. The following are some of the services we provide to your area:
Sheet Metal Rolling – Sheet metal rolling is an incredibly useful technique. It can be used to create various geometries like hoops, cylinders, and combs, or a combination of the three. Sheet metal rolling works by passing coiled sheet metal through a queue of specifically adjusted rollers to achieve the desired shape. Akramatics services are versatile, we are able to manufacture a diverse product range efficiently.
Sheet Metal Folding – Using a sheet metal folding machine, flat sheets of metal can be precisely folded into solid metal products and structures of various shapes and sizes. Sheet metal folding services delivered by our company combine precision and speed to provide impressive turnaround times. Sheet metal folding is the action of folding flat sheet metal to manufacture a variety
CNC Punching – CNC stands for computer numerically controlled and it is the machinery we use to organise our metal sheets so that they can be cut with perfection. Once the CNC has correctly adjusted it can accurately cut metal shapes out of sheet metal using a punching ram. At Akramatic we offer the best CNC punching services, with our high-tech facilities enabling us to perform fast and accurate punches
Laser Cutting & Profiling – Works by measuring and cutting flat metal sheets using a guided laser beam for exact cuts and higher quality. We make use of the latest laser and profile machinery giving us the versatility to offer a wide selection of products.
CAD & CAM Design – CAD/CAM design is the process of designing and engineering sheet metal into products and structures with the help of a computer to accurately draw out designs. We can use CAD/CAM design software in order to take customers' sheet metal drawings all the way to complete production efficiently.
MIG & TIG Welding – We offer the following processes: MIG, TIG, Spot and Stud Welding utilising the most common metal & alloy types. We can also supply part or full assembly of items post-paint.
Industries We Have Worked With
Akramatic has 50 years of experience providing bespoke sheet metal fabrication services. In that time we have had the pleasure of working for numerous industries. Some of the industries we have spent time include the following: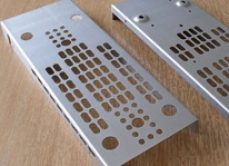 Communications
Communications
For over 50 years we have been working with the telecommunications sector to provide high-quality metal fabrication services. We count some of the largest and most globally recognised communication companies as our customers.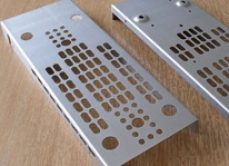 Medical
Medical
The medical industry requires a wide range of metalwork fabrication – we follow ISO 9001:2015 material control processes to ensure all products meet strict hygiene standards expected.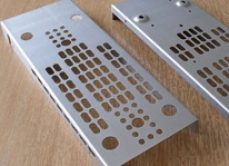 Communications
Road & Rail
We are a leading supplier to the road & rail transit industry, managing and providing all types of long-term original equipment manufacturing contracts. Our experts' design, manufacture and assemble all types of miscellaneous transportation hardware.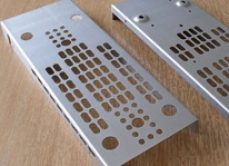 Fire Protection
Fire Protection
We have delivered first class metal fabrication to assist with fire protection and prevention for decades. Our work can be found across a range of industries and facilities including homes, hospitals, data centers, and more.
Fabrication Product Range
Some of the products we stock at Akramatic include railings, handrails, balustrades, architectural metalwork, and furniture. We are able to manufacture such a diverse product range by utilising the best metal sheet fabrication machinery available.
Streamlined Sheet Metal Fabrication
When working with Akramatic you will have access to industry-leading fabrication technology and software. Your sheet metal fabrication will be completed with speed and accuracy through the use of computer-aided manufacturing and design (CAM/CAD). Now that we have integrated computer-assisted machinery we are able to provide customers with fast and reliable metal sheet fabrication at affordable rates.
Get in Touch
If you are from the Birmingham area and have any questions, please don't hesitate to contact our expert team. They will be more than happy to help you with any queries you may have. Our team are experts within the field and will do their very best to ensure your questions are answered correctly and accurately.
AKRAMATIC ENG. CO. LTD.
Keys Road, Nix's Hill Industrial Estate, Alfreton, Derbyshire DE55 7GN
Telephone
Website
Send Us a Message